THINKCAR PROG3 is a new generation immobilizer programmer for smarter and easier immobilizer diagnostics . It is part of ThinkCar's world-first modular diagnostic series.
Have you ever done diagnostics and settings on your car's immobilizer system and wished you had more functionality? Well, THINKCAR PROG3 is a programmer that comes with the full functionalities you need for expert work.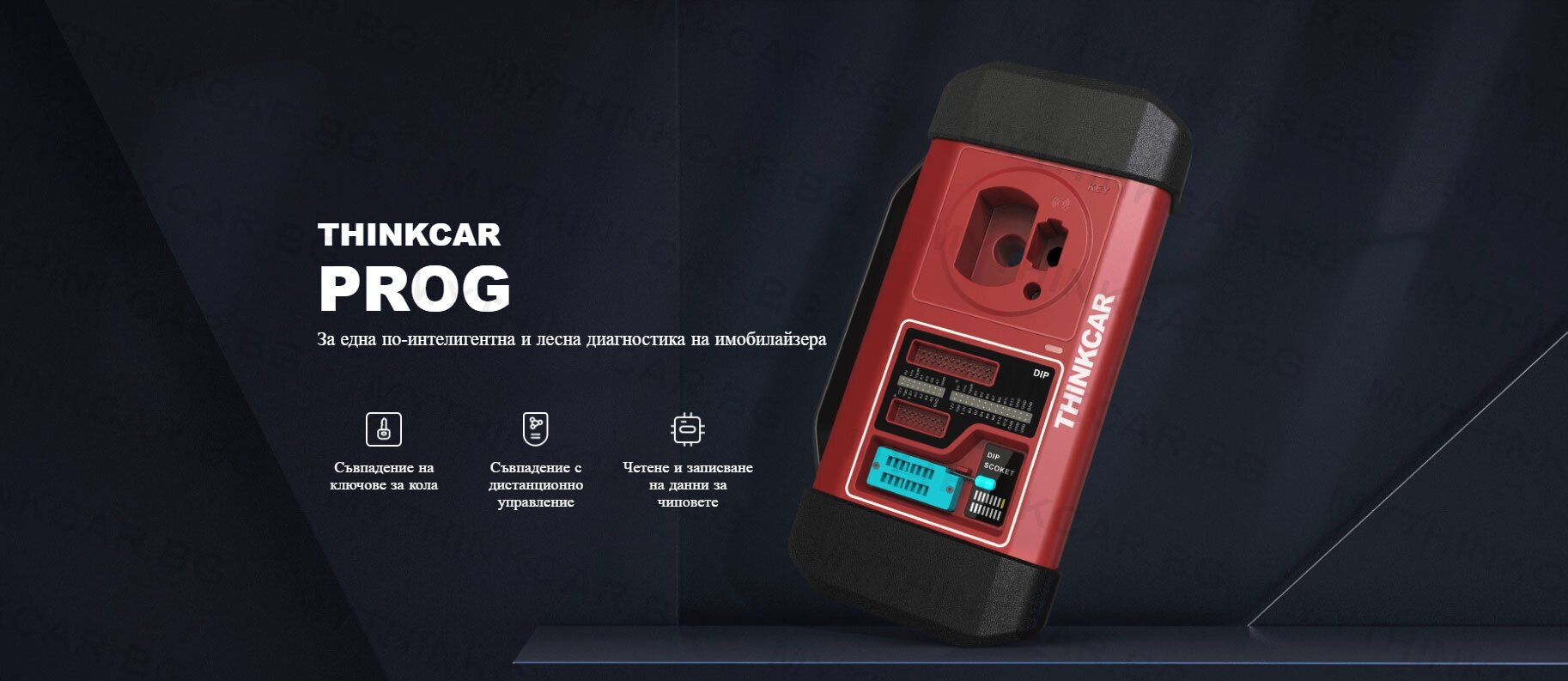 Through the immobilizer programmer module, you will be able to perform much more precisely:
Match car keys.
Match with remote control.
Read and write chip data.
It is a powerful immobilizer programmer that is widely used in automotive electronics, by garages, locksmiths and professional mechanics.
The main function of THINKCAR PROG3 is to read and write car chip key data, featuring the following features:
EEPROM read and write function.
On-board MCU read and write function.
Benz infrared key generation function.
Function to generate special keys.
BMW engine code reading function.
BMW cas4+ / FEM chip read and write function etc.
With THINKCAR PROG3 you will also be able to perform the following activities:
Car key programming – the module supports reading, copying, writing data and other functions. Its car key programming function serves to copy the data of the old key and write to the new key to make it create faster than ever.
Gearbox programming – the module supports programming the gearbox to restore the old data from it or to replace the old gearbox by writing the new data into it.
Advantages of THINKCAR PROG3
Read and write UDS chip on Volkswagen's fourth generation engine.
Support for Volkswagen/Audi fourth generation UDS for engine replacement (after 2016).
Supports BMW E, F, G chassis 8HP gearbox data.
Supports Volkswagen/Audi MQB platform gearbox replacement or cloning.
Supports Volkswagen/Audi MQB dashboard or steering column replacement.
Supports Audi fifth generation gearbox ECU replacement.
Supports replacement of Audi fourth generation EZS, VW comfort computer and KESSY chips.
Support replacement of Volkswagen/Audi dashboard without disassembly and lost data (can be read directly from the harness, no need to remove the chip), except 35XX, NEC24c64 14+.
Supports Volkswagen/Audi MQB platform engine swap (no need to read the original car's engine data, it can be read directly from the key).
If you work in an auto repair shop and perform dozens of tests, you know how time consuming it is and how focused you need to be to perform the tests well. It is a professional tool that is both compact and multifunctional. Its main advantage is that it works quickly, easily and wirelessly.
Thus, it will save you many hours of active work, while reducing your efforts.
What is the THINKCAR PROG3 device?
DIY slot – connect the anti-theft ECU chip pins through the cable to read and write data.
Car Key Chip Hole – A place for a key chip to make a key match.
Car Key Slot – A place for a car key to do the key matching.
DB26 – connect to the anti-theft wiring harness as a data line for all lost fourth generation tool keys.
DB15 – connect to main harness.
Status indicator – power indicator.
Benz Infrared Key Slot – Benz infrared key slot to match the keys.
DC12V – connection to DC12V power supply.